IJCC創立40周年記念誌へのサポートのお願い
— English followed below —
ハレルヤ!主の御名をほめたたえ賛美します。
来年2022年に、IJCCは創立40周年という大きな節目の年を迎えます。40年間の歩みを支え続けてくださっている主の恵みを感謝すると共に、新しい歩みへの希望を込めて、40周年記念誌の作成準備を現在進めております。
今回の記念誌は、IJCCメンバーや「神の家族」関係者、また諸教会への配信のみならず、今後教会を訪れる未信者の方々にも読んでいただき、宣教のためにも用いられるようにと願いながら、なるべく多くの部数を発行したく願っています。また、そのために必要となる製作費につきましては、IJCCを通して主に支え導いていただいたことへの感謝の思いを記念誌献金に!という趣旨で、"一緒に参加して一緒に記念誌を作ろう"と、現在IJCCメンバーや「神の家族」関係者の方々から献金を募っております。
上記の趣旨を御理解いただけますならば、下記の方法で御協力いただきたく、どうぞよろしくお願い致します。
下記リンクにて示される手順に従ってクレジットカードで御送金ください。

献金先<Choose a fund>は40th Anniversaryを選択してください。

「ハワイ宣教支援基金」郵便振替02720-0-42961

備考欄に「IJCC40周年記念感謝」と記載ください。何卒宜しくお願いいたします。
主任牧師 冬木友博
ビジネス牧師 中林義朗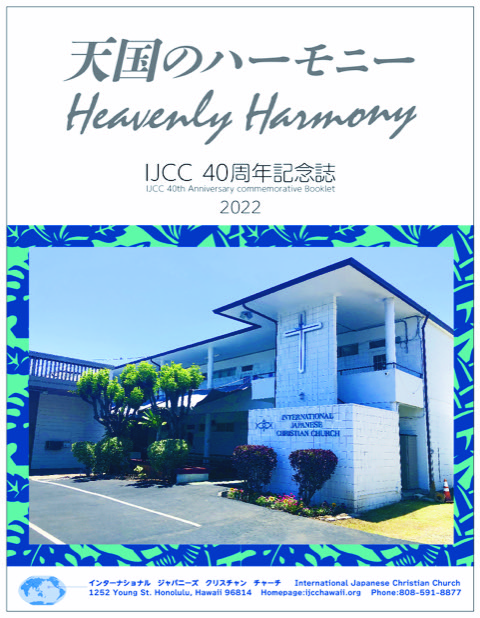 Hallelujah! Praise the name of the Lord.
IJCC is celebrating its 40th anniversary in 2022. We give thanks to the Lod for His guidance and grace. As you may know, we are currently working on a booklet to reflect on our 40-year history and also looking forward to where He is going to lead us.
We hope this booklet will encourage fellow Christians and even non-Christians, of God's goodness and faithfulness. With this in mind, we are planning to print a large number of books. In order to do so we are looking for sponsors or one-time donations. We would love for all of you to be a part of this process to publish IJCC 40th Anniversary booklet. IJCC has one way or another impacted our lives. We pray this booklet will do the same for others.
If you would like to partner with us or make a one-time donation, please use one of the following options:
For credit card, please go to: https://app.easytithe.com/app/giving/ijcc

Click: <40th Anniversary>

[United States] If you would like to send a check, please make check payable to: "IJCC" note: "40th Anniversary"

Please mail to the following address below.

IJCC: 1252 Young St., Honolulu, HI 96814

[Japan] If you would like to send an offering through the bank,

please use the information below.

<ハワイ宣教支援基金> 02720-0-42961
Note: IJCC40周年記念感謝
International Japanese Christian Church
Senior Pastor Tomohiro Fuyuki
Business Pastor Yoshiro Nakabayashi